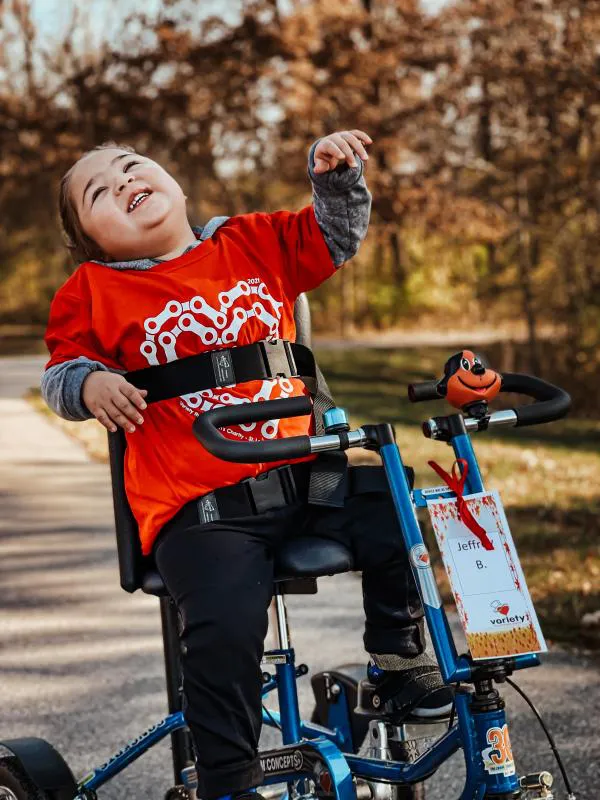 For a long time, Variety Kid Jeffery (aka JJ) felt like he was missing out on a big part of childhood – riding a bike. Traditional bikes and tricycles are not accessible for JJ and his needs, so he has never owned a bike of his very own.
At Bikes for Kids in November of 2021, this all changed. On that day, JJ took home his first therapeutic bike, a bicycle that has been adapted to fit his specific needs. With features like a large seat, safety belts, pedal straps, and an anti-tip design, JJ feels comfortable and secure, allowing him to focus on riding.
This new therapeutic bike will help JJ build core and leg strength, and it will develop his motor skills and coordination. But, most importantly for JJ, this new bike gives him something he has never experienced before – freedom and a sense of belonging.
"So many people don't realize that the little things like riding a bike can make such a huge difference for children with disabilities," says Brittney, JJ's mom.
Beyond just having fun, JJ will also be able to use his therapeutic bike to build on skills he is learning in physical therapy, which he also receives with assistance from Variety and our TherHappy Kids program.
JJ has benefited from physical therapy since before he was even a year old. He has seen the same physical therapist for his entire life, something that was made possible by Variety after JJ aged out of another assistance program.
"Keeping our same therapist and getting regular therapy have helped JJ more than we can really say," Brittney shares. "Without therapy JJ would not be where he is now! He continues to get stronger and stronger every day."
Brittney also shares that being a Variety Family is something they "can't compare to anything," saying, "We feel so lucky and blessed to receive the assistance that we have from Variety over the past few years. The therapy services and therapeutic bike that we have received help JJ live his life to the fullest! The amount of stress and worry that Variety has taken off our family is something we will always be thankful for."
Thank you to all our generous supporters who empower Variety Kids like JJ through our programs, making it possible for them to build strength, mobility, freedom, and so much more.