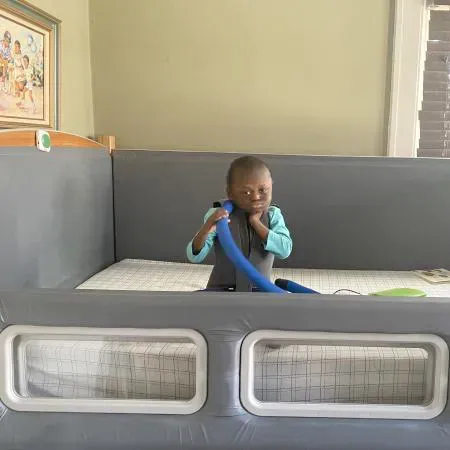 Variety Kid Lincoln recently received a piece of a medical equipment that does it all – keeps him safe, gives him a place to place to play, helps his family take care of him, and provides a comfy space for a good night's sleep. This all-purpose piece of equipment? A safety bed.
This bed is built with both security and comfort in mind, with sturdy, padded walls, the ability to raise and lower the walls and mattress, and plenty of room to grow. Lincoln's mom, Amanda, shares that all these features are critical to Lincoln's well-being.
"Lincoln needs the safety bed for exactly what it says – to keep him safe," Amanda says.
It is not safe for Lincoln to sleep in a typical bed because, due to his mobility challenges, he needs added security to ensure he does not roll out of bed. Until now, Lincoln has been using a crib to keep him safe. But, as he starts to get bigger, the crib is no longer an option.
This bed is much larger, giving Lincoln space to grow. The windows on the bed also allow Lincoln's caregivers to easily see him when the sides are raised, without the risk of his legs getting stuck in the slats of a crib.
The bed's padding also helps Lincoln get the stimulation he needs – he tends to bang his head, and the padding allows him to do this safely. It also minimizes the need for Lincoln's helmet, especially at night.
During the day, Lincoln can now spend time in his bed relaxing, stretching out, and playing with his toys. He used to have to be confined to his crib at times, but now he can have fun independently! Lincoln's siblings also join in from time to time, and they love that they can more easily interact because of the bed.
"He is so much happier in his new space," says Amanda.
Lincoln's safety bed is also helping his family care for him. This bed raises up so that his caregivers can change his diapers and clothes, and provide other care, right there, instead of having to get down on the floor
Amanda, Lincoln, and their family are so grateful for Variety and the supporters who made it possible for them to receive this critical piece of equipment, even after insurance denied coverage.
"Variety's assistance means so much," Amanda says. "I literally cried the day they delivered the bed! I knew the bed would not be covered by insurance, but I knew something had to change. This was just an amazing, life-changing blessing!"
Thank you to all those whose generosity empowers Variety Kids like Lincoln to live amazing lives through access to vital medical equipment – you can learn more about our Durable Medical Equipment program here.